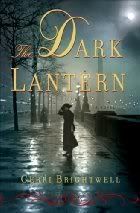 I discovered
The Dark Lantern
through a post on
Salon
, recommending some historical fiction for the summer. All four of the books were intriguing, but
The Dark Lantern
was the first I read. In 1893, Jane Wilbred moves from her position as a maid to a clergyman's family in the country to join the staff of the Bentley family in London. Jane quickly learns that the family has many secrets, and she has secrets of her own to protect. It is, of course, only a matter of time until the webs of secrets and deceit are untangled into the conclusion.
I enjoyed the book, but I didn't love it. I felt like the element of mystery was too forced. And in a lot of ways, it had some similar themes to
Fingersmith
... and
The Dark Lantern
doesn't really stand up to the comparison. The climax didn't match the build-up to it. It was as though Brightwell expended much of her energy early on and ran out of steam when it came time to unveil the secrets. And no one was truly punished for their deceit. But it was a well-written book, and if I hadn't read
Fingersmith
just a few months ago, I probably would have enjoyed this book a lot more. And I look forward to Brightwell's future offerings; there is quite a bit of potential in her work.
Rating: 3 stars
Pages: 321
888 Category: Books Released in 2008*
Review Cross-Posted To: Library Thing
*- subject to change
Tags: 50 books 2008, 888, authors: a-f, fiction, fiction: historical, review, stars: 3, titles: a-f
Current Mood:
discontent
Current Music: Sara Bareilles - Love Song