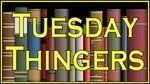 What's the most popular book in your library? Have you read it? What did you think? How many users have it?

The most popular book in my library is Harry Potter and the Sorcerer's Stone, which is in 37,389 libraries and is the most popular book on Library Thing. I have read it, and I enjoyed it very much (but I am not one of the 364 reviewers). It wasn't my favorite of the Harry Potter books- I think Prisoner of Azkaban will always be my favorite.

Of the top ten books on Library Thing, the only one I don't own is The Da Vinci Code.

What about you? Which are the most popular books in your library?