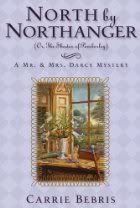 Following their marriage at the end of Jane Austen's
Pride and Prejudice
, Fitzwilliam and Elizabeth Darcy have seen more adventure than they'd planned for their first year of marriage, beginning with the events of
Pride and Prescience
and continuing with
Suspense and Sensibility
. Now expecting the birth of their first child, Darcy and Elizabeth look forward to settling in at Pemberley with Darcy's sister Georgiana. Fate has other plans, though, as a short trip to Bath and a chance invitation to Northanger Abbey (at the request of Captain Frederick Tilney) turn into a months long ordeal that brings the condescending Lady Catherine to Pemberley and into their daily lives. Between Lady Catherine, pregnancy, and the mystery of what really happened at Northanger Abbey, Elizabeth and Darcy find that life at Pemberley is just as adventurous as life in London.
North By Northanger
is the third book in Carrie Bebris' Mr. and Mrs. Darcy Mystery series, and it is just as light and engaging as the first two, which I read last year and briefly reviewed
here
. Darcy and Elizabeth remain true to the spirit in which Austen conceived them, and Bebris has turned them into quite the pair of sleuths. Additionally, it was nice to see Henry Tilney, the hero of
Northanger Abbey
, make a cameo, though I wish Catherine would have made one as well (perhaps Ms. Bebris feared having too many Catherines, with the extended role Lady Catherine plays in this novel). This mystery, like the ones in the preceding novels, had a bit of a supernatural element to it as well, though the story is not as dependent on it. Overall, I thought it was a great story, but the "who" in the "whodunnit" shouldn't really come as a surprise to anyone who has read both
Pride and Prejudice
and
Northanger Abbey
. But Ms. Bebris certainly has nothing to be ashamed of, and I think Austen would approve of her work, and the way she stays true to the characters.
Buy this book on Amazon
Rating: 3.5 stars
Pages: 316
Publisher, ISBN: Forge Books, 076531410X
Tags: 50 books 2008, authors: a-f, fiction, fiction: mystery, review, stars: 3.5, titles: l-p