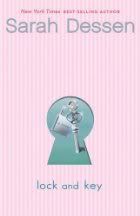 In the past, it has been my practice to post reviews in the order I read the books. However, I think that's impacting the rate at which reviews get posted. So now I'm going to just try posting reviews as I write them. I have some written for the books I read at the beginning of the year, but I think they need to be cleaned up a bit before I actually post them for the world to read. My first review?
Lock and Key
by
Sarah Dessen
.
What is family? That is the question posed to seventeen year old Ruby Cooper on her first day at the exclusive Perkins Day School. Sent to live with her estranged older sister and her husband after it is discovered her mother disappeared two months earlier, Ruby's life is turned upside down. Ruby has lived an almost transient lifestyle with her mother, believing that her older sister, Cora, abandoned her without a second glance ten years earlier. Now that she has been reunited with Cora, Ruby is forced to face some truths about their past and their biological family. Along the way, she also learns that a person can have many families over time.
At the heart of nearly every Sarah Dessen novel is the story of a girl and a boy, and in Lock and Key, that boy is Nate Cross. Nate is the next-door neighbor of Cora and her husband Jamie, and the night that Ruby moves in, Nate hides the fact that Ruby was trying to run away from Jamie. As the novel develops, so does the relationship between Nate and Ruby, though Dessen shares the emotional connection rather than the physical. And while Nate rescues Ruby a few times at the beginning of the novel, his life falls apart while hers begins to come together. In the end, it is Ruby and Cora who must rescue Nate.
It is not plot, but characters, that drive Dessen's novels. Her gift is in creating characters that the reader can identify with. This is certainly true of Ruby, who feels out of place in the perfect life her sister has created, and more at home in the large, anonymous crowds at her previous high school. Teens struggling to find their place in the world will relate to Ruby's desire to control even one aspect of her life. On the whole, I found this to be a satisfying, engaging read, with the quality Dessen fans have come to expect.
Rating: 4.5 stars
Pages: 422
888 Category: Books Released in 2008
Review also posted at: LibraryThing and Amazon
Tags: 50 books 2008, 888, authors: a-f, fiction, fiction: young adult, review, stars: 4.5, titles: l-p
Current Mood:
complacent
Current Music: Tristan Prettyman - In Bloom