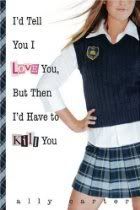 Fifteen year old Cammie Morgan has always had an extraordinary life. As the daughter of two highly trained government spies, she has been attending The Gallagher Academy for Exceptional Young Women, which on the surface is a stereotypical all-girls prep school. In truth, it's an elite school training girls to be spies. Cammie and her friends Liz and Bex are prepared for increased challenges in the classroom, but there are shake-ups outside the classroom as well. A new sophomore student is admitted (an extreme rarity, considering training begins with the seventh grade and only becomes more intense with every passing semester), and Cammie meets a boy. Josh is a normal boy from Roseville, the nearby small town. He believes Gallagher girls are spoiled rich girls- and Cammie can't tell him the truth. Between her budding relationship with Josh and the advice of Macey (the aforementioned new student), Cammie begins to learn about things the Gallagher Academy has never bothered to teach its girls- primarily, boys and relating to them.
In the first novel of her Gallagher Girls series,
I'd Tell You I Love You, But Then I'd Have to Kill You
, Ally Carter creates a world in which fifteen year old girls are smarter and more educated than most adults, but know almost nothing about boys. And it was quite a lot of fun watching Cammie, Liz, and Bex apply their Covert Ops lessons to finding out more about Josh, as well as their increasing reliance on Macey for interpretation of the evidence. Though each of these girls is skilled in the art of becoming a spy, Carter doesn't make these girls perfect by any stretch of the imagination. Each has their own insecurities and issues: most of Cammie's revolve around the fact that her father was killed on a mission when she was a child. I think this lack of a real father figure has made it hard for Cammie to have any real understanding of boys.
Overall, I thought the book was a lot of fun. Carter could have easily made the story too heavy by weighing it down with too much drama between Cammie and Josh, or Cammie and Macey (and Bex and Liz by association). It's a light-hearted romp, and Cammie is not obnoxious in her intelligence. And I enjoyed the time Cammie spent in Roseville (I have to admit, the name of the town throws me every single time I see it, as there is a Roseville here in California where I spend a fair amount of my time and a great deal of my paycheck). The town reminds me of a cross between Stars Hollow(of
Gilmore Girls
fame) and Sunnydale (home of
Buffy, the Vampire Slayer
); it has all the small-town charm of Stars Hollow, and the sense of the people in the town not really understanding what was happening under their noses, as was always the case in Sunnydale. I'm looking forward to reading the next book in this series, entitled
Cross My Heart and Hope to Spy
.
Rating: 3.5 stars
Pages: 284
Publisher, ISBN: Hyperion, 9781423100058
Tags: 50 books 2008, authors: a-f, fiction, fiction: young adult, review, stars: 3.5, titles: g-k
Current Mood:
calm
Current Music: The Perishers- Going Out