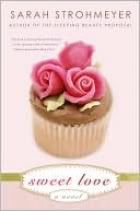 People choose to read books for any number of reasons: the description sounds interesting, a friend recommended it, they feel like it's a book they "should" read. I chose to read Sarah Strohmeyer's new novel,
Sweet Love
, for possibly the oddest reason I've ever chosen to read a book: it looked delicious. Well, that's not the only reason. I liked the description on the inside of the dust jacket. But the cupcake on the front is what drew me to the book. I would have overlooked it entirely otherwise.
Julie Mueller is a single mom in her mid-forties. As a field reporter for a news station in Boston, she has become the consummate career woman, desperate to avoid the fate of her mother: trapped in the kitchen, providing for a husband Julie doesn't believe appreciates her. Julie divorced her own husband when her daughter, now seventeen, was a baby. Since she was a small child, Julie has loved one man: her older brother's best friend, Michael Slayton. Julie declared her love to Michael when she was seventeen, and he turned her down. Now, years later, fate is giving them another chance as she struggles with career upheavals and struggles in her relationship with her mother.
I was expecting a kind of "chick-lit" type story, but this book was more than that. Julie's relationship with her mother is almost more at the core of this story than Julie's relationship with Michael. And I think the story is the better for it; the idea of the changing relationship between mother and daughter is a kind of universal theme. Julie doesn't always understand the things her mother does, and vice versa. It's something any daughter can relate to. I'm not at the stage of life where I fully understood everything Julie was experiencing, but as someone who doesn't always agree with or understand her mother, well, I could relate to the general feeling.
The big problem with the relationship between Julie and Michael is, I suspect, the big problem in relationships the world over: their communication isn't very good. Misunderstandings and a lack of communication have plagued their relationship for years, and in order to move forward, they must learn to lay it all out on the table- and actually listen to what the other person is saying. Again, this is something of a universal theme, as people are wont to only hear what they want to hear, and others don't always say what they mean.
I think the appeal of this book is that the problems facing the characters are problems anyone can relate to. None of these characters is anything special; they're all ordinary people (though Michael is a tad idealistic). But everyone has trouble communicating with other people, or not understanding the people most important to them. I think Strohmeyer's point is that it's important to take a few minutes to listen to someone (to the things both said and unsaid); it could go a long way toward improving your relationship with them before it's too late.
I definitely recommend this book.
Rating: 4 stars
Pages: 297
Publisher, ISBN: Dutton, 9780525950646
888 Category: Books Released in 2008
Tags: 50 books 2008, 888, authors: q-u, fiction, review, stars: 4, titles: q-u
Current Mood:
pensive
Current Music: Muse - Time Is Running Out