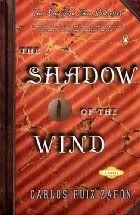 The Shadow of the Wind
by Carlos Ruiz Zafon is one of those books that I've heard nothing but good things about. It had been on my radar for a year and a half, but it started getting a lot of attention in the Talk forums on Library Thing a few months ago. So I managed to snag a copy from BookMooch, and took my time reading it.
Ten year old Daniel is taken by his father to the Cemetery of Forgotten Books, where he is allowed to adopt one book. The book he selects is
The Shadow of the Wind
by Julian Carax. Completely enthralled by the book, he attempts to find more works by Carax, only to discover someone has been systematically finding and destroying every copy of Carax's novels. Daniel's is one of the few left in existence. Determined to find out why someone would go to the trouble of destroying the books, Daniel spends several years trying to discover what really happened to Carax, and to the novels. He is swept into a web of lies, deceit, and revenge that spans several decades.
I was expecting a thriller in this book, but I honestly didn't expect some of the characters to be so sinister. Some characters were clearly evil from the beginning, but others had sinister sides that didn't become clear until later. So many lies were told, it was hard to tell by the end of the novel what was the truth and what was a lie. But it was all worth it. Zafon is a powerful storyteller capable of weaving an intricate plot with compelling characters. I took my time reading this novel, not wanting to miss any of the subtleties of the book (though I'm sure I did). I found myself just as eager as Daniel to discover who was destroying the books, as well as why Julian Carax was such a mystery.
One of the things I did struggle with was keeping track of Daniel's age. It seemed to me that he jumped from being ten to being sixteen to being nineteen overnight. By the time I reached the end of the novel, I wasn't sure how old he was.
Also, did anyone else who read this actually wish they could read Carax's
The Shadow of the Wind
? I kind of wanted to know what all the fuss was about...
Anyway, I loved this book. Highly recommended.
Rating: 4.5 stars
Pages: 487
Publisher, ISBN: Penguin, 0143034901
888 Category: Books from the TBR pile
Tags: 50 books 2008, 888, authors: v-z, fiction, fiction: contemporary, fiction: mystery, review, stars: 4.5, titles: q-u