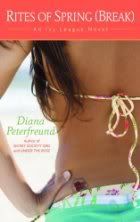 Now that she and the other knights of the Order of Rose and Grave have survived two attempts to destroy the society, Amy Haskel is looking forward to getting down to normal society business, and that means pranks with rival societies. But as she learns in
Rites of Spring (Break)
, the third novel in the Ivy League series by Diana Peterfreund, destruction is the new normal. An attempted prank against a rival society goes awry, and Amy spend the first half of the semester wishing Spring Break would come already. She joins the other members of Rose and Grave at Cadavor Key, a private island off the coast of Florida. However, the current knights aren't the only Diggers in residence, and while some patriarchs are friendly, others aren't. The threats against the girls in the club continue, and culminate into the biggest threat to their personal safety they've faced yet. On top of it all, Amy's guilty of society incest again, this time with someone she never expects (those who have read the first two novels probably won't be as surprised as Amy was, though).
So far, this was my favorite book of the series (the fourth and final book is scheduled to be released next summer, and I can't wait). Peterfreund seems to have really hit her stride when it comes to the characters. She knows who they all are, and the readers have been given enough to feel like they know the characters as well (and as anyone who has read more than one of my reviews can tell you, I am a big fan of characters). Additionally, much of the infighting within Amy's tap class (though they're no longer taps) seems to have come to a halt in the face of preserving themselves against outside forces. Part of that is a result of the more divisive characters having a minimal role, I'm sure. And part of the reason I love this one is the previously mentioned relationship Amy begins. I admit, I saw it coming, and I think this person is a good match for her. I don't like books that are outright romance novels, but this series has a little bit of everything, so I enjoy bits of romance mixed in.
I definitely recommend this book to anyone looking for light reading that's not too fluffy on substance.
Curious about the other books in the series? Check out my reviews of
Secret Society Girl
and
Under the Rose
Rating: 3.5 stars
Pages: 354
Publisher, ISBN: Delta Trade, 9780385341936
888 Category: Released in 2008
Tags: 50 books 2008, 888, authors: l-p, fiction, fiction: contemporary, review, stars: 3.5, titles: q-u
Current Music: The Pierces - Lies