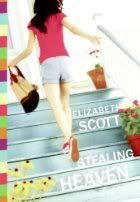 In Elizabeth Scott's novel,
Stealing Heaven
, eighteen year old Danielle has only ever known one thing: theft. She has been stealing things as long as she can remember, and her mother has trained her in the art of being a thief. When they arrive in the small, upscale beach resort town of Heaven, it is the same as every other town they've been to. But in Heaven, Danielle finds something she's never really known; she feels at home for the first time. It isn't long before she's made a friend, and she finds herself falling for a cute guy. However, her friend belongs to the family her mother has chosen to target, and the cute guy is a cop. Danielle must make a choice: her mother and the life she's always known, or the chance to step out on her own and create the life she's always wanted.
Elizabeth Scott is quickly rising to become one of my favorite young adult authors. I read
Bloom
last year and enjoyed it, and I recently read and
reviewed
Perfect You
, and enjoyed it as well. One of the things I love best is her characters; there is something about each and every one of them that a reader can connect to. And though my life of crime was limited to stealing soccer ball stickers when I was four, I could definitely relate to Danielle. As a young adult, it's hard to figure out how to stand on your own feet when your goals for your life don't necessarily mesh with the goals your parents have set for you. I also thought the pacing of the book was just right. At some point, the warring forces in Danielle's life would have to come to a head, and I thought it happened at just the right time (though there was an interesting twist a little further beyond that as well).
I'd definitely recommend this book to anyone looking for a good story about growing up and trying to stand on your own.
Rating: 4
Pages: 307
Publisher, ISBN: Harper Teen, 9780061122811
888 Category: Young Adult
Tags: 50 books 2008, 888, authors: q-u, fiction, fiction: young adult, review, stars: 4, titles: q-u
Current Music: Garbage - Use Me