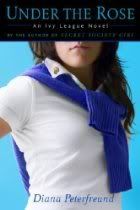 After taking on some of the most powerful men in the country and coming out ahead, Amy Haskel and her fellow members of the Order of Rose and Grave are prepared to take full advantage of the benefits of being a Digger their senior year. However, in
Under the Rose
, Diana Peterfreund's sequel to
Secret Society Girl
, they learn that things can always go wrong. After one of their fellow knights turns down the tap on Straggler Initiation night, things quickly begin to dissipate. Someone launches a website purporting to share the secrets of the Diggers, and the girls begin receiving strange messages that indicate the society is on the verge of imploding. On top of it all, Amy begins a new fling with one of her society brothers that can't possibly end well. When a fellow knight goes missing, it's up to Amy to find her- and Amy must turn to an old adversary for help. At the end of the day, Amy is stunned by just how deep the society's problems run, and it seems as though the emails the girls received will come true.
So often, sequels fall flat. But I don't think this one did at all. Amy is just as funny and relatable a narrator as she was in the previous novel, and the supporting characters also continued to shine. Some of the characters annoyed me, but I don't blame Peterfreund. They're good characters; they were designed to annoy. And some of the characters got the chance to become a little more three-dimensional in this novel, which I thought was great in terms of progress for the series. And Peterfreund really upped the ante, at least in terms of action. In the first novel, the intrigue is kept within the members of the society, whether they were active knights or patriots. But
Under the Rose
raises the question: at what point does it become less about keeping the society's secrets and more about guaranteeing the personal safety of its members? It's a question Amy and her fellow knights must consider.
I'd recommend this to anyone who enjoyed the first novel, as well as anyone who enjoys a bit of intrigue in their light reading.
Rating: 3 stars
Pages: 352
Publisher, ISBN: Delta Trade Paperbacks, 9780385340038
888 Category: Re-reads
My review for
Secret Society Girl
can be found
here
.
Tags: 888, authors: l-p, fiction, fiction: contemporary, review, stars: 3, titles: q-u
Current Mood:
happy
Current Music: The Beatles - Come Together