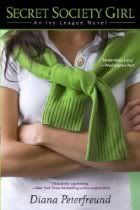 I hereby confess: I am a member of one of the most infamous secret societies in the world.
So begins Diana Peterfreund's debut novel,
Secret Society Girl
, a hilarious look at what happens when 176 years of society traditions are suddenly turned upside down.
Eli University junior Amy Haskel isn't surprised when she begins receiving mysterious phone calls instructing her to be in a certain place at a certain time; it's Spring, the time when the senior secret societies on campus begin tapping members for the next class. As editor-in-chief of the literary magazine, she is a shoo-in to be tapped by Quill and Ink, the literary society. Yet from the moment she arrives for her interview, she realizes something is not right; this is far too cloak-and-dagger for Quill and Ink. The truth comes out when Tap Night arrives: Amy has been selected to join Rose and Grave, the oldest and most elite of the societies- and the only one known to still accept only males. Amy is one of six women chosen to join Rose and Grave; yet no sooner is her tap class initiated, then problems arise between the tap class, the seniors who tapped them, and the patriarchs who feel that women should not be included in their society. Amy, never one to mince words, finds herself at odds with some of the most powerful men in the country- and living to tell the tale.
I read this book last year, but recently re-read it when the third book in the series was released. And I enjoyed it on the re-read just as much as I did the first time. Amy is hilarious as a narrator, and her realization that she was tapped not for Quill and Ink, but for Rose and Grave, is particularly humorous given some of the comments she makes during her pre-tap interview. And some of her assumptions about the society are a tad outrageous, many of them based on rumors she'd heard about the Diggers before she became one. And Amy herself is quite likable; she's smart (as is true of all Eli students, seeing as the name change is about the only difference between Eli and Yale University), and the implication is that she's pretty, but she also doesn't know when to shut up, and is something of a conspiracy theorist. As she says, she's pretty ordinary compared to some of the other taps; some of them only come along once in awhile. But she's also loyal to her friends and fellow taps, and occasionally, she manages to come through in a big way.
This is my favorite kind of "chick lit"- the kind with a bit of an adventure and mystery to go along with the girl-power. Amy is a fun character and narrator, and there's an interesting mix of stock characters and unexpected characters rounding out the rest of the cast (Amy's society big brother Malcolm, the misanthropic Poe, and socialite Clarissa make up some of my favorites). This was a fun summer read, and I'd recommend it to anyone looking for a relaxing summer read.
Rating: 3 stars
Pages: 291
Publisher, ISBN: Delta Trade Paperbacks, 9780440243892
888 Category: Re-reads
Tags: 50 books 2007, 888, authors: l-p, fiction, fiction: contemporary, review, stars: 3, titles: q-u
Current Music: U2 - All I Want is You