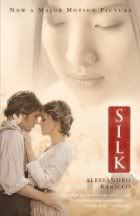 I found
Silk
by Alessandro Baricco when browsing at the bookstore yesterday afternoon. I remembered seeing it on the 1001 books list, and bought it on a whim. It took me a little over an hour to read it, and it packed quite an emotional punch for a book so small.
In the 1860s, Herve Joncour is a French silk merchant who travels to Japan to retrieve silkworm eggs. While there, he becomes obsessed with a woman he meets- a concubine with Western features, who does not speak a word of French. On his second trip, she hands him a note written in Japanese, and on his return to France, he finds someone to translate the note for him. The message intrigues him, and he returns several more times, until he finds the village destroyed and the people on the move. He does not see her again, but he receives a note, again in Japanese, once he has returned to France and his wife, who has always been aware of his obsession with this woman. It is nearly ten years before he discovers the truth of the second note.
This is a novella. Some chapters are little more than a sentence, and the longest chapters are two or three pages. There is a great deal of repetition. But in spite of all that, the story is breathtaking. It is easy to feel the depth of the emotions Herve Joncour feels- emotions that are never vocalized. There is quite a bit left unsaid in this novel, and yet the unsaid is as clear as the things that were said. So, too, are the emotions of his wife Helene. As she watches her husband continually return to Japan, ostensibly for business, she must struggle with the fact that she is not the woman who inspires such obsession. It is a keepsake from another woman that he always carries, and the reader can see that she fears she will lose him, even if he cannot.
Like most other American readers, I read this in translation from the original Italian, and have to marvel at the work of the translator, Ann Goldstein. She has kept intact the lyrical, rhythmic quality of the story. The use of language by both Baricco and Goldstein is beautiful and haunting; it is the reason the reader can share in the emotions of Herve and Helene.
In the end, I think I loved this book. It seems to be the kind of book I didn't know I was looking for until I found it. It was deeply emotional, and at the same time, it was subtle in all the right ways. I highly recommend this book.
Rating: 4.5 stars
Pages: 132
Publisher, ISBN: Vintage International, 9780307277978
888 Category: 1001 Books
Cross-Posted to: 1% Well Read, Library Thing
Tags: 1% well read, 50 books 2008, 888, authors: a-f, fiction, fiction: historical, review, stars: 4.5, titles: q-u
Current Music: U2 - I Still Haven't Found What I'm Looking For