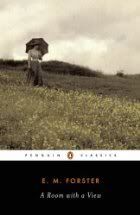 I'm actually a bit tardy in writing this review, considering I completed the book a month ago. But I'm trying to get caught up with my reviews, and this one is particularly important, considering it's one of the novels I've read for the 1% Well Read challenge.
When I began
A Room with a View
by E.M. Forster, I wasn't sure what to expect. It's not a long book- less than 200 pages- but I got stuck about one hundred pages into Howard's End four years ago and never completed it. So in late May, I began reading it. It took me nearly a month and a half to complete it, making the story feel much longer than it actually was. I couldn't quite suss out the relationship between Lucy and Charlotte, or exactly why Charlotte found Mr. Emerson and his son so objectionable. I struggled with the rhythm of the novel nearly the whole time they were in Italy. But then they returned to England, and I finally got a feel for Lucy and the rhythm of the story, and in the end, I really enjoyed it.
Perhaps the most fascinating thing about this novel is that Forster accurately reflects the changes of society and the novel at the time. The conflict between old Victorian proprieties and modern sensibilities and equalities plays out in its pages much the way it did in real life. The upper classes (as well as those who aspired to the upper class, in Charlotte's case) tried to retain their old social values, while the working classes sought progress. And though he never says it explicitly, Forster suggests that those touting progress and reform were more sensible than those who clung to the old ways. This is especially clear in the depictions of Cecil Vyse and George Emerson; Cecil is portrayed as being boorish and lazy, and nearly opposite of George Emerson, whose quiet strength ultimately wins Lucy's heart.
Rating: 4 stars
Pages: 196
Publisher, ISBN: Penguin Classics, 0141183292
888 Category: British Classics
Cross-Posted to: 1% Well Read, Library Thing
Tags: 1% well read, 50 books 2008, 888, authors: a-f, fiction, fiction: classics, review, stars: 4, titles: q-u
Current Music: Muse - Stockholm Syndrome